In Neverland:~




~ Wendy really likes you. She dreams about you night and day. She will always remember you. Even if she grows up and has children of her own. She will always love you Peter Pan. Because, you know that place between sleep and awake? That place you can still remember dreaming? That's where she'll always love you. That's where she'll be waiting..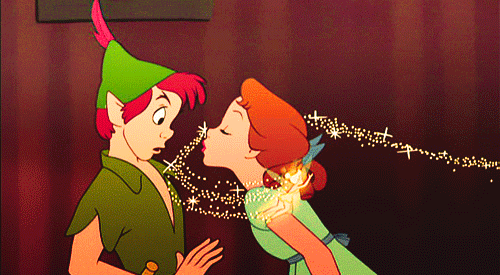 ~ Wendy was astonished when first meeting you, she couldn't believe her eyes. After you tried to kill her, she was a bit hurt and confused at first. THen she understood. She still tries to be nice to you. Even after those past memories.




:



Outside Neverland~



Alice is one of Wendy's closest friends. To Wendy, the girl from Wonderland is like the sister she never had. They mostly think alike about Fantasy and talk about their adventures in Wonderland and Neverland. She will always count her as a friend. No matter what.

~ A young boy she found roaming the cold London Streets one night. Feeling sad for him, she allowed him to stay at the Darling Household. She sees TJ as a nice boy and they get along quite well.



Wendy enjoys Duffy's company and she is always kind and motherly to him. He reminds the young lady of her youngest brother Michael. She enjoys his company alot

~ Wendy met Queen Elsa one day on the North Mountain. Once she found out that she had powers, Wendy was astonished. She is kind to the Queen of Snow and Ice and will always be truthfull



~ A native of London, the local Chimmney sweep helped Wendy get back to Bloomsbury after getting frightfully lost at night. He's the kindest man Wendy ever met. She hopes that she sees him around again Soon.



~ Although, she tried to murder Wendy in the past, a reccent incounter with the two brought back some memories. You know what they say: Forgive and Forget.



~ Merida is the Princess of the Dunbroch clan. She is sweet and kind. (She was also another one who saved Wendy from the three girls from a while ago) Wendy will always count on her as a friend.



~ Wendy sees him as a big brother figure. He's a very kind man whom she met on the streets of San Fransoyko one day.



Jose is a gentleman to Wendy. She has his trust.



An old friend of hers. She will always be there for him no matter what happens.



After saving her life one night, Wendy always feel safe with Flynn around. She's glad to call him a friend.

Other Wonderful Friends





















Wendy and Tiger Lily somewhat get along. After she saw Peter and Tiger Lily "eskmo" kiss with each other. Wendy got jealois and stormed off. However, their friendship has blossomed a bit











Hmph!

~ He's a smelly old codfish. He was always trouble.